Now offering Dole Flow Control Valves – 3/8″ through 3″
Designed by Robert Davis
The Universal Hydrant Boot is made from recycled surgical grade polypropylene.
New installation no longer requires a person to be in the trench preventing and eliminating the risk of injury or death, should the trench walls fail. With the New UHB, the installation is no longer time consuming or Labor intensive and most importantly no longer a Safety Hazard!
Simply attach to the hydrant bottom to protect the valve from all sediment and allow the hydrant to drain quickly and efficiently. This simple and patented two piece device can be installed after the waterline is secured to the fitting.
Quick and easy assembly, safely above ground, then lowered into the trench and backfilled without gravel. This operation drastically reduces the time in the trench when replacing old hydrants, The UHB is a light weight, durable device that will never rust or collapse, no to mention very cost effective.  CLICK HERE for more information.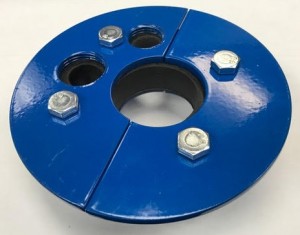 Split Top Steel Well Seal
• A36 Hot Roll Steel
• 3/4″ Molded Rubber, 35 Durometer
• Zinc Plated Steel Bolts or SS Flush Bolts
• 4″ X 1-1/4″
• Other split sizes can be custom made
CLICK HERE for Part Numbers and Pricing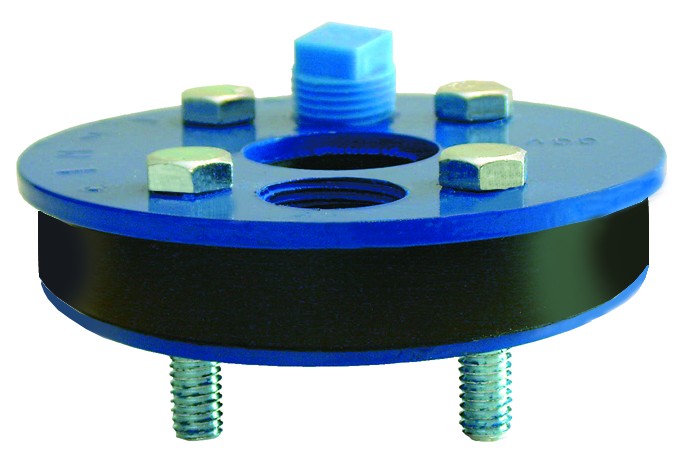 Well Seal – Steel – Single Drop Pipe – For 6.90″ OD Casing
• A36 Hot Roll Steel
• 3/4″ Molded Rubber, 35 Durometer
• Zinc Plated Steel Bolts or SS Flush Bolts
• 6-1/4″ Well Seal
CLICK HERE for Part Numbers and Pricing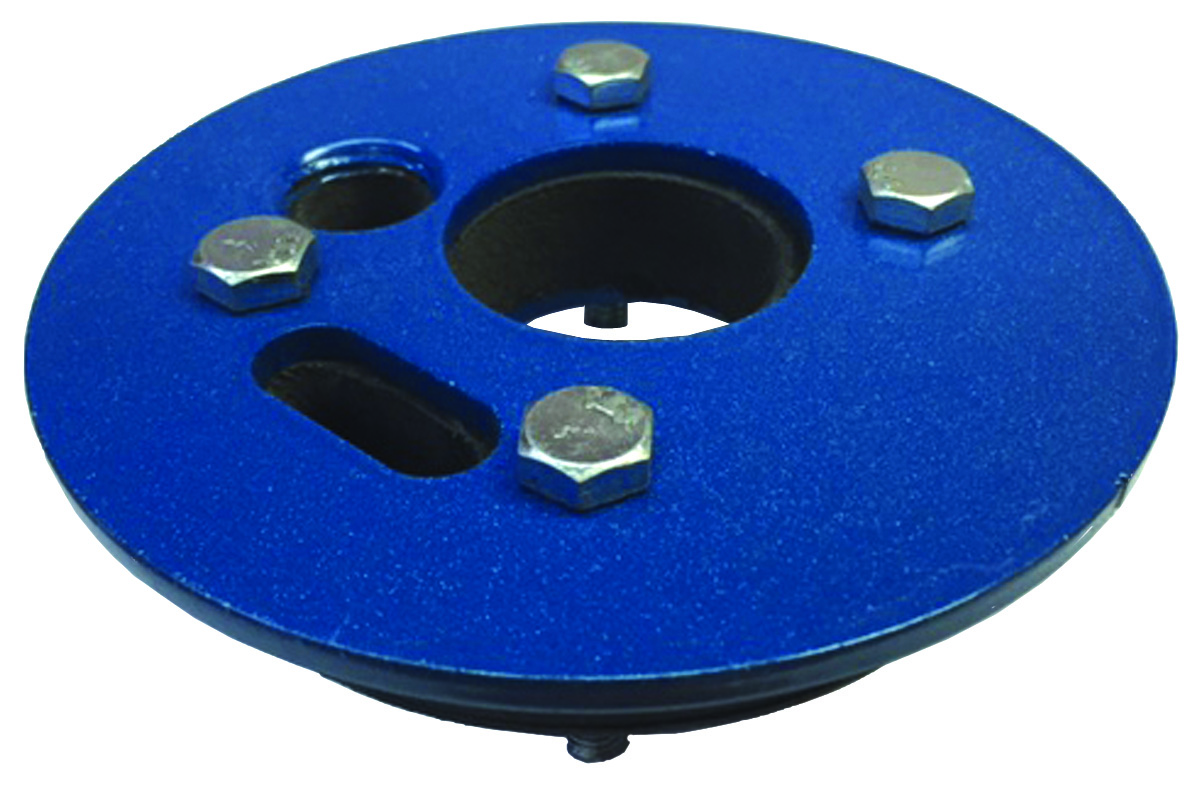 Well Seal – Steel – Single Drop Pipe – Slotted Cable Hole
• A36 Hot Roll Steel
• 3/4″ Molded Rubber, 35 Durometer
• Zinc Plated Steel Bolts & SS Flush Bolts
• 3/8″ X 1-1/8″ Slotted Cable Hole
CLICK HERE for Part Numbers and Pricing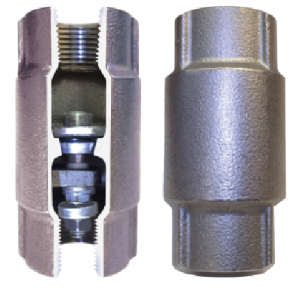 Stainless Steel Check Valves
Certified Lead Free
*Available Now*
• 304 Stainless Steel Cast Body
• 304 Stainless Steel Cast Poppet
• Female Threads
• Sizes 1″ through 2″
CLICK HERE for Part Numbers & Pricing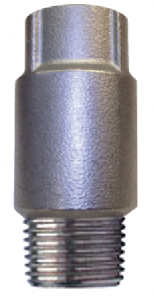 Stainless Steel Submersible Check Valves
Certified Lead Free
• 304 Stainless Steel Cast Body
• 304 Stainless Steel Cast Poppet
• Female-Male Threads
• Sizes 1″ X 1-1/4″ and 1-1/4″ X 1-1/4″
CLICK HERE for Part Numbers and Pricing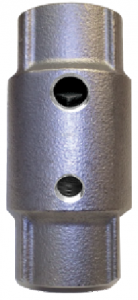 Stainless Steel Single and Double Tapped Check Valves
Certified Lead Free
*Available Now*
• 304 Stainless Steel Cast Body
• 304 Stainless Steel Cast Poppet
• Female Threads
• Sizes 1″ through 2″
CLICK HERE for Single Tapped Part Numbers & Pricing
CLICK HERE for Double Tapped Part Numbers & Pricing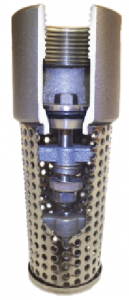 Stainless Steel Foot Valve
Certified Lead Free
• 304 Stainless Steel Cast Body
• 304 Stainless Steel Cast Poppet
• Stainless Steel Perforated Strainer
• 1-1/4″ Female Threads
CLICK HERE for Part Number and Pricing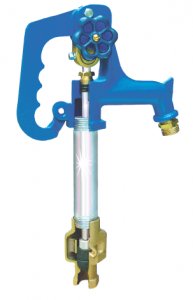 Deluxe Frost-Proof Yard Hydrant with Stainless Steel Pipe and Pump Rod
Certified Lead Free
• 304 Stainless Steel 1″ Riser Pipe
• 304 Stainless Steel Operating Rod
• 3/4″ NPT Female Inlet
• 3/4″ Male Hose-Thread Outlet
• Polyester Powder Coated Cast Iron Head and Handle
• Maximum Pressure 120 PSI
CLICK HERE for Part Numbers and Pricing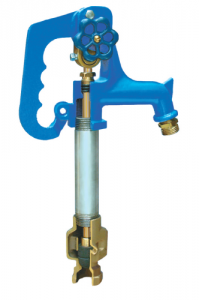 Deluxe Frost-Proof Yard Hydrant with 1″ Inlet
Certified Lead Free
• 1″ NPT Female Inlet
• 3/4″ Male Hose-Thread Outlet
• Polyester Powder Coated Cast Iron Head and Handle
• Maximum Pressure 120 PSI
CLICK HERE for Part Numbers and Pricing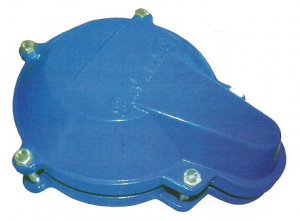 Watertight Well Cap with 1-1/4″ Conduit Connection
• 5 Bolt Construction
• 1/4″ Grounding Lug
• 9/16″ Screened Vent
• Polyester Powder Coated Heavy Duty Cast Iron
CLICK HERE for Part Number and Pricing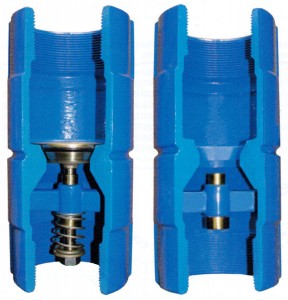 Ductile Iron Check Valve with Stabilizer for VFD Systems
Certified lead Free
• Ductile Iron Body
• Silicon Bronze Poppet
• Buna-N O-Ring
• Stainless Steel Spring and Nut
• Heavy Duty Silicon Bronze Washer
• Non-toxic Polyester Powder Coated Heavy Duty Cast Iron
CLICK HERE for Part Numbers and Pricing